For some large organizations, it can take an average of 24 business days to create content—from the first words to fully approved. Yes, you read that right: 24 business days! Even if you are creating content faster than that, could you be more efficient? There are a variety of factors that can slow you down, but there are also new tools that can help you streamline the process to develop better content faster.
Collaborators and stakeholders
A key factor to why it can take 24 days is the number of collaborators who need to work together to deliver creative, on-brand, accurate, and compliant content. The content owner might be working with:
Copywriters and creatives to help develop content,
Brand governance teams to help ensure a consistent brand voice,
Stakeholders, such as related departments, like sales; or subject matter experts, such as product owners, to check for accuracy, and
Legal and compliance reviewers to make sure that all content complies with all regulatory guidelines.
Add in that each group might be inside or outside the organization and require multiple rounds of review. Some organizations use email to send out drafts and collect comments, some have a homegrown system, and believe it or not, some still use paper copies passed back and forth. It can be hard to coordinate everyone's feedback, determine how to address conflicting comments, and later recall who changed what. The process is not efficient and can easily lead to errors and security risks.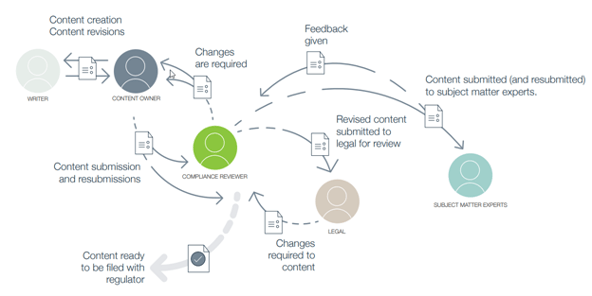 SaifrReview™ was created to make it easier to collaborate while using AI to make the process more efficient. SaifrReview™ will help make the process look more like this: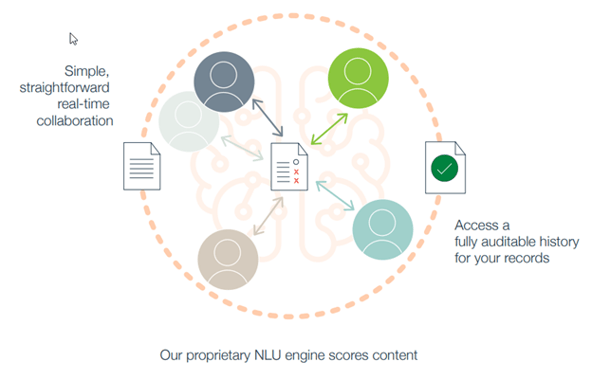 As you are creating content, SaifrReview enables marketing and all stakeholders both inside and outside the organization to collaborate within one tool. You are all literally on the same page. All comments, changes, and approvals are shown and tracked. Contributors can comment and build on each other's remarks to reach agreement faster.
The AI engine is an active contributor from the beginning noting the more routine, monotonous items. SaifrReview's natural language processing (NLP) models instantly "understand" brand elements such as tone, gender, age, sentiment, etc. Each piece is analyzed, and potentially problematic words, phrases, and images are highlighted. The tool explains why each item was flagged and the content owner can decide to change or not. SaifrReview helps make staying on brand easy and proactive.
Legal and compliance
In addition to brand components, the Saifr NLP models highlight simple regulatory risks. The tool analyzes the content, videos, and images to determine if they might be promissory, exaggerated, unwarranted, misleading, etc. It will also help by suggesting straightforward footnotes and disclosures. Content creators can proactively make changes before the legal/compliance team even starts their review. By removing the first pass, your compliance teams can perform their review faster and focus on more complex issues. SaifrReview helps deliver on-brand, compliant materials faster.
Tracking and reporting
Using the right tool with robust tracking and reporting can save you time and help you to improve your process. SaifrReview tracks all comments, changes, and approvals throughout the process. While content is being created and reviewed, the marketing owner can easily see the status of each piece and know who has reviewed it and who has not.
SaifrReview provides the data you need to help measure your process. You can determine the average time it really takes for pieces to go from start to approval. You can see your pain points and bottlenecks and work to remove them. Are there certain partners who are slow to respond or keep making changes late in the process? You will be able to clearly measure your process and improvements over time and be better able to plan capacity for your team and for those on whom you depend.
The right tools can help efficiently develop content that meets your brand and regulatory guidelines.
991016.2.0