Updated 07/19/2023
Wouldn't it be great if you could run a Saifr scan directly in your existing software? Writing compliant documents could be so much simpler, not to mention more efficient. Now you can.
Meet SaifrScan add-ins! As the name suggests, add-ins embed the functionality of one software into another. Saifr offers add-ins for PDF and Microsoft 365, allowing users to run Saifr compliance and marketing scans directly in existing software. (And don't worry, more add-ins are coming soon.)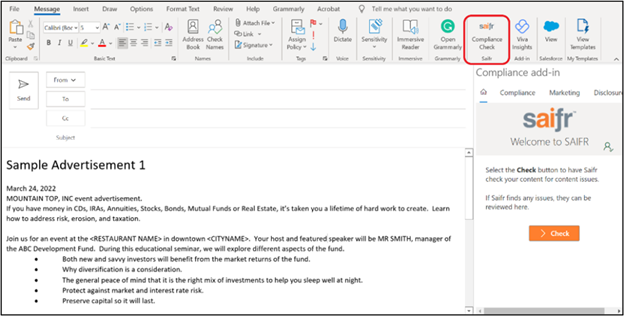 To use the add-in, select the Saifr Compliance Check tile in your PDF editor or Microsoft 365 app and click "Check" to run a scan. In seconds, Saifr's robust AI models will scan your content. When the scan is complete, a bar will appear on the right side of your content, featuring three tabs.
Compliance risk detection
The compliance tab highlights potentially risky language that might need attention and explains why it could be problematic, helping you quickly evaluate words and phrases that may not be compliant. You can then make changes and rerun the scan to address and resolve issues, helping make compliance reviews more efficient.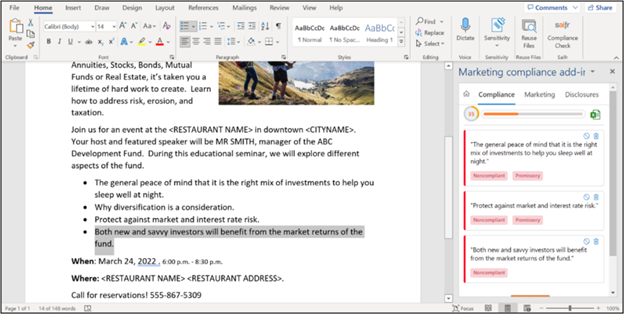 For illustrative purposes
Marketing insights
The marketing tab provides marketing insights—including demographics, sentiment, education level, grammar, and inclusive language—helping content creators optimize messaging for their target audience. As you make changes and rerun the scan, the insights change in response.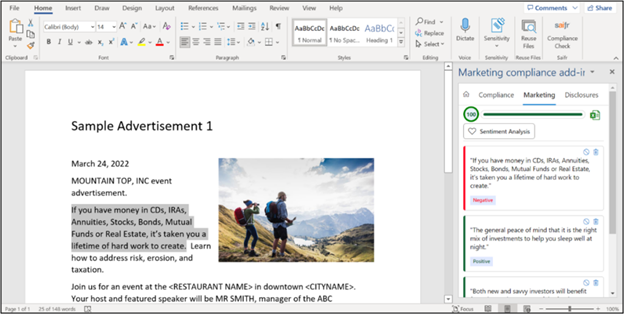 For illustrative purposes
Disclosure suggestions
The disclosures tab can provide suggested disclosures your content may require and links to the disclosure library so you can easily add the appropriate text.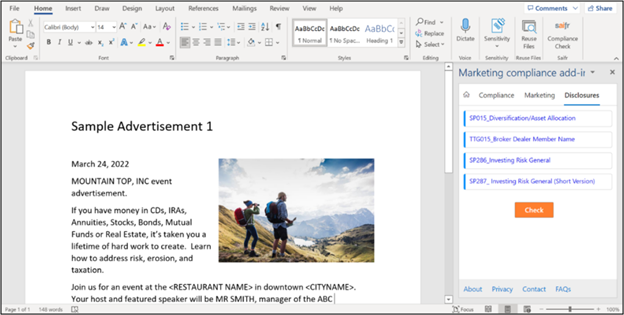 Saifr is proud to be one of the few compliance solutions that offers both a workflow software and add-ins. That means you can access our robust AI models in whichever way best suits your business: SaifrReview, APIs, or SaifrScan add-ins.
1052602.2.0