Disclosures are important in financial services communications to help with clarity, completeness, and often to meet regulatory guidelines. However, they typically aren't something that a content creator considers their area of expertise. Over time, if you write enough, you start to get a feel for what needs which disclosure. But often that is only the most obvious cases like "past performance is no guarantee…." When working on something new, the content creator often has no idea a disclosure is needed, never mind which one, how much space it will take, and where it needs to be in proximity to the text.
Compliance reviewers want to focus on the interesting and challenging parts of reviews and not marking that the general investing disclosure, for example, needs to be included yet again.
SaifrReview™ can help both marketing and compliance. The tool enables compliance to store disclosures in one place and alerts content creators to which disclosures may be required. Let's take look.
Disclosure library
Each financial services company has their own disclosures and rules on when and how to apply them. Often, they are kept in a spreadsheet and shared. With SaifrReview, all disclosures can be included in the disclosure library for easy reference. The legal and compliance teams can categorize them into folders with custom names as shown below.
For illustrative purposes
Each disclosure shows details on when to use it, proximity, prominence, etc., and even key words that might trigger the disclosure. Each disclosure can easily be edited and kept up to date by those given specific access.

For illustrative purposes
Disclosure alerts
When content is being created and is scanned by the AI engine, SaifrReview can show which disclosures may be needed based on the firm's disclosure library. The user can click on the disclosures listed, read the details, and include or not. When the piece is sent to compliance to review, they too can see the suggested disclosures and decide if they are needed.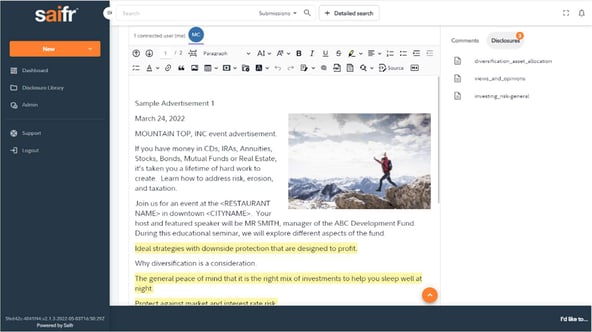 For illustrative purposes
Disclosures are important. SaifrReview can help manage and implement your disclosures more efficiently.
1028547.2.0