Marketing and compliance officers know that the compliance review process is often lengthy and inefficient. One way to help streamline the process is to leverage AI to detect simple compliance issues, such as promissory images. Wouldn't it be great if AI could tell whether an image potentially posed a compliance risk?
We have good news for you! SaifrReview™'s AI can scan images (in addition to text) to detect potential compliance risks. Not only does this capability free up capacity for marketing professionals and compliance officers, it makes the entire compliance review process more efficient and gets content to market faster since teams are able to process submissions faster.
For marketing
Finding the perfect image for marketing materials is hard enough without having to consider the related compliance requirements. Luckily, Saifr's AI can scan images, providing marketers and content creators early insights and allowing them to proactively develop more compliant materials, limiting the back and forth with compliance.
From the beginning of the content development lifecycle, marketers can scan a piece to learn whether the image might get flagged as a potential risk. This means content creators can avoid unnecessary legwork to buy an image or design a piece based on a particular image because they understand early on that it poses a potential compliance risk. By leveraging Saifr's image detection, marketers and content creators can adjust the image as necessary before compliance even sees it, reducing rounds of review and friction between teams.
For compliance
Compliance officers can often get bogged down with low-complexity review tasks like highlighting clearly non-compliant language, adding the same general disclosures, or flagging images. Saifr's image scanning is designed to allow compliance officers to focus on the higher-complexity compliance tasks, since the AI can quickly detect which images might pose a risk.
After Saifr scans the document and flags potentially problematic images, compliance officers can simply review the flagged images and make the final decision on whether they're acceptable to include. This frees up compliance officers' time, enabling them to hone in on the challenging compliance issues that require more critical thinking and judgement. Plus, documents received from marketing are more likely to be compliant if they are using Saifr too. Ultimately, Saifr helps expedite the review process since compliance can approve submissions more efficiently.
How it works
We've trained our AI model to identify promissory concerns in images. To train the model, we evaluated tens of thousands of images from large financial services companies.
As a result, Saifr's AI model can detect potentially problematic images such as bank vaults, money trees, or stacks of money and coins, whether they're icons, graphics, or photos. We can train it to detect additional or industry-specific concerns.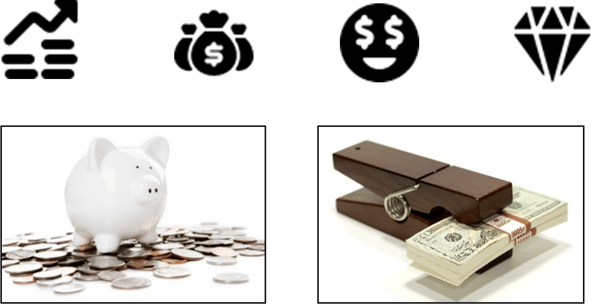 Users can upload, insert, or paste images into a submission. Once a scan is run, a comment box pops up, flagging if the image may be promissory. From there, a marketer can adjust the image or a compliance officer can evaluate whether the image poses a risk.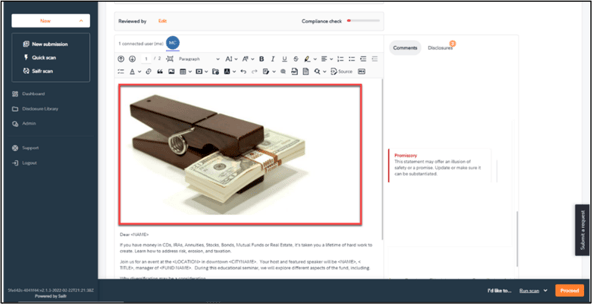 for illustrative purposes only
1040888.2.0